A few months ago, we announced the creation of an Indie Craft Parade scholarship fund. Today, we are pleased to announce that the 2011 winner of the $500 scholarship for art funding is Brook Glenn Elementary School in Taylors, SC.
An art project from students at at Brook Glenn.
While we knew it would be hard to choose just one school, since every art program needs extra funding, the board was impressed by the thorough plan submitted by art teacher Laura Shaw for utilizing the money in her arts curriculum. Laura's passion for inspiring students was very clear, and we're excited to partner with her and her school this coming year! Check back early next year for an update on the school and their program!
To introduce you to Brook Glenn, we wanted to share a few of the art projects the students have been working on and some quotes from their application:
"I believe that visual art is a language, one we encounter on an everyday basis and children need the ability to decipher and communicate through art."
Giant Holiday Card, Brook Glenn 5th Grade Class
"I have seen firsthand the joy and confidence a child receives from creating."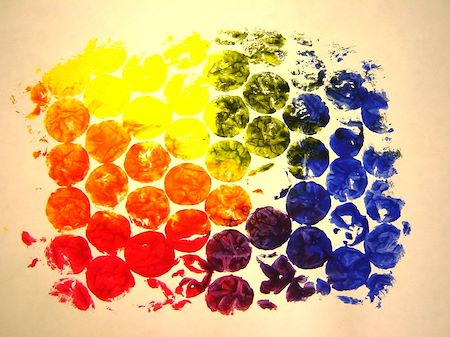 Primary Colors bubble wrap print, by Daniel (Pre-K)
We are excited about this new way that Indie Craft Parade can give back to our community, and we want to encourage each of you to remember your local schools too. Through this process, we were reminded that many art programs are lacking basic supplies and even a small donation of $25 or $50 could help greatly. This need prompted our board to contribute an additional $100 for art supplies to a second school, Gateway Elementary.
We've seen a glimpse of how much need there is for supporting the arts in our schools and while we can't fix everything, there are ways each of us can make a difference. Donate extra craft supplies you might have lying around the house, or encourage your church or workplace to contribute unused paper and supplies to a local art program. If you have more suggestions on how to help art teachers and their programs, add your comments below!